carolavideografi

Finns det något som jag saknar i denna videografi vore det kul ifall du skickade ett e-mail och berättade. Då kan vi kopiera från varandra och våra diskografier blir mer komplett.

Maila mig (E-mail: pk_sthlm@hotmail.com)



MUSIKVIDEO:

THE RUNAWAY/Inspelad i Miami 1986
I´LL LIVE/Inspelad i Stockholm 1990/ Regi: Ulf Malmros
FÅNGAD AV EN STORMVIND/CAPTURED BY A LOVESTORM/ Inspelad i Stockholm 1991
GULD I DINA ÖGON/ Inspelad i Rom 1994


KÖPVIDEO:

KONFERENS PÅ LIVETS ORD 1988?/"There is a way"
KONFERENS I ERIKSDALSHALLEN 1989/ "Jesus lever nu" + "Det är nog"
KONFERENS PÅ LIVETS ORD 1989/"En mäktig våg, en mäktig vind"
RUNAR & CAROLAS BRÖLLOP 1990/ Carola sjunger "Bara du"
SALUT TO ISRAEL 1991/ "Not by might", "Let´s stand together", "Captured by a lovestorm" + "Sing Hallelujah"
NYÅRSKONFERENS PÅ LIVET ORD 1991/ "Let´s stand together", "Raoul - en hjälte för vårt land"
NYÅRSKONFERENS PÅ LIVET ORD 1992/ "Raoul - en hjälte för vårt land", "Gå, gå, gå"
LIVETS ORDS BIBELSKOLA 10 ÅR 1994/ "It´s good to know Jesus" + "Anybody here"


(DATUM*/KANAL/PROGRAM/"låt")

* då programmet sändes
¤ detta saknar jag
## jag sitter med i publiken



SVENSK TV 1977:

28 november/ SVT/ SVERIGES MAGASIN/ "Krokodilbarnets klagan", intervju


SVENSK TV 1979:

31 maj/ SVT/ AKTUELLT/ Reportage om grupparbeten från Mariaskolan ¤
21 juli/ SVT/ SOMMAR PÅ GRÖNA LUND/ Carola medverkar i kören när Jan Malmsjö sjunger ¤
13 december/ LUCIAFIRANDE/ Från Hedvig Eleonora kyrka i Stockholm ¤


SVENSK TV 1980:

25 januari/ SVT/ NYGAMMALT/ "Inte mod" (med Tre tjejer)
31 december/ SVT/ TAUBE I VÅRA HJÄRTAN/ "Brevet från Lillan" + "Ellinor dansar" ( med Olle Adolfsson)


SVENSK TV 1981:

24 januari/ SVT/ JANNE CARLSSON SHOW/ "Take the A-train" (med Tre tjejer)
9 december/ SVT/ HYLANDS HÖRNA/ "If I can dream"


SVENSK TV 1982:

23 april/ TV 2/ COUNTRY PÅ KVÄLLSKANTEN/ "9 to 5" + "Johnny B. Good"
23 oktober/SVT/ FREDSGALAN/ "??" ¤


SVENSK TV 1983:

26 februari/ TV 1/ MELODIFESTIVALEN/ "Främling" 2 ggr, omröstning, final
27 februari/ TV 1 + TV 2/ AKTUELLT + RAPPORT/ Om segern i Melodifestivalen
23 april/ TV 1/ EUROVISION SONG CONTEST/ "Främling"
? /TV 1/ HYLAND HÖRNA/ "Love me tender" (med pappa Jan) ¤
7 augusti/ TV 1/ SOMMARSHOW/ Carolas sommarshow som satte publikrekord på de flesta ställen hon besökte.
3 oktober/ TV 1/ MÅNDAGSBÖRSEN/ "Hunger", intervju
? / TV 2/ BARNJOURNALEN/ Intervju, utfrågning
4 november/ TV 1/ NÖJESMASKINEN/ "Christ have set me free", "What´s it all about" + "Jesus Christ Superstar"
?/ SVT/ LEVANDE LIVET/ Visning av Carolas Guldfyndskollektion
? /TV 1/ SHOW PÅ GRÖNA LUND/ Bl a "Fame", "Gospel-Medley"


NORSK TV 1983:

? / NRK/ MOMARKEN-SHOW/ "Säg mig var du står", "Mickey" + "Främling"


DANSK TV 1983:

? / NATTUGGLAN/ "Hunger", "Medley" + "Ännu en dag"


SVENSK TV 1984:

25 februari/ TV 1/ CAROLA SÅ IN I NORDEN/ En timmes show från Cirkus i Stockholm
? / TV 1/ NÖJESMASKINEN/ "Tokyo" + "Tommy tycker om mig"
4 maj/ TV 2/ ALLSÅNGSKONSERT/ "Utan sång", "Play that...", Wade in the water", "Du vet väl om att du är värdefull"
12 juli/TV 2/ UNGDOMSREDAKTIONEN/ Reportage från sommarshowen på Borgholm
28 juli/ TV 1/ TA CHANSEN PÅ SKANSEN/ "I am a woman, I am", "Det regnar i Sthlm" + "Tommy tycker om mig"
? / TV 1/ NÖJESMASKINEN/ Reportage från Japan-resan
15 september/TV 1/ ISSTADIONS-KONSERT/ Carolas sommarshow; låtar från Steg för steg-plattan och några gospellåtar
29 september/ TV 1/ FEST ATT FIRA/ Medley: Krokodilbarnets klagan, Främling, Tommy.., Amore.
26 december/ TV 1/ FRÅN JULELACK TILL NYÅRSFRACK/ Show med Carola och bl a Loa Falkman, "Broadway"-låtar


SVENSK TV 1985:

? / TV 2/ BELL OCH BOM/ "Om du törs", intervju
? april/ TV 2/ GÄST HOS HAGGE/ Intervju och sång, bl a "Var bor du lilla råtta"
våren/TV 1/ MELODIFESTIVALEN/ Carola delar ut blommor till segraren Kikki Danielsson
3 juli/ TV 2/ NATTKAFÉ/ Intervju inför ny-premiären av sommarshowen + "På egna ben"
?/ SVT/ EN GÅNG PÅ 60-TALET/ "You can have him", "I want you back" + "Balladen om Fred Åkare..."


SVENSK TV 1986:

våren/ MUSIKVIDEON/ "The Runaway"
5 april/ TV 1/ RAZZEL/ "Brand new heart", intervju, "Runaway"
11 april/ TV 1/ CANCERGALAN/ "So far, so good", intervju och överlämning av guldskiva
17 maj/ TV 1/ CAROLA SPECIAL/ Låtar från Runaway-plattan
7 augusti/ TV 2/ NATTKAFÉ/ "I go to the rock", "Soon and very soon", "Depend on me" + "My tribute"
4 oktober/TV 1/ FLYKTINGGALAN/ "Let me be there", "Brand new heart", "Play that simply melodie", "Dixxie land"
29 oktober/ TV 1/ TELEVISIONEN-DIG SKA VI FIRA/ "Spread...", "Rockin´to midnight", "Dancing in...", "Television"


SVENSK TV 1987:

6 mars/ TV 1/ NOTKNÄCKARNA/ "Vårat gäng" + "My favorite thing"
14 mars/ TV 2/ GOSPELROCK FRÅN SCANDINAVIUM/ "Sing Hallelujah", "My tribute" + "Soon and very soon"
? / TV 1/AFFÄREN RAMEL/ "Regula de tri"
26 maj/ TV 1/ MAGASINET/ "Amazing grace"
18 juli/ TV 2/ FURUVIKSSOMMAR/ Intervju, "He´ll be there", "Don´t put it off... ", + "Gospeltrain" (med Per-Erik Hallin)
22 juli/ TV 2/ NATTKAFÉ/ "Step by step", "Vinden går i felom..", "Just the way you are" + "Vilken värld det ska bli"
30 juli/ TV 2/ NATTKAFÉ/ "Down by the riverside", "Det gåtfulla folket", "If I can´t rock for Jesus" + "Du vet väl om..."
5 augusti/ TV 2/ NATTKAFÉ/ "Det lilla ljus" + "You´ve got a friend"
13 augusti/ TV 2/ NATTKAFÉ/ "Gospel train", "I´m on my way to heaven", "Alla behöver" + "Att lämna allt"
30 augusti/ TV 1/ SISTA SUCKEN/ "The way we were", intervju om Eurovision Song Contest
19 september/ TV 1/ CAROLA & PER-ERIK I RÄTTVIKS KYRKA/ Kyrkokonserten, som även släpptes på platta!
11 december/ TV 1/ LOFFE PÅ CIRKUS/ "Love of another kind" + "Take me back"


SVENSK TV 1988:

2 maj/ TV 1/Inför CANCERGALAN/ Repetition av "Gospel-Medley"
2 maj/ TV 1/ CANCERGALAN/ "Gospel-Medley" (med Credokören)
5 november/ TV 2/ GO´MORRON SVERIGE/ "Gud älskade världen", intervju, "Det är nog"


SVENSK TV 1989:

4 augusti/ TV 2/ HAGGES UTEGRILL/ "So satisfied", intervju, "Gospel-Medley" + "Don´t you worry"
? /TV 2/ HASSES LADA/ "Proud Mary" + You´ve make me, wanna..."
? november/ TV 1/ NOTKNÄCKARNA/ "Papa, can you hear me", "Up where we belong" (med Christer Sjögren)
25 november/ TV 1/ RÖDA FJÄDERN GALAN/ "Inte makt, inte styrka" + "Messias"
23 december/ TV 1/ CARAMBA/ Reportage från Livets Ord, intervju, "Vi ska ta det", "En mäktig våg, en mäktig vind"
27 december/ TV 1/ TREKVART/ 80-talets röst: Carola, intervju


SVENSK TV 1990:

9 mars/ KANAL 1/ MELODIFESTIVALEN/ "Mitt i ett äventyr", omröstningen, finalen
10 mars/ KANAL 1 + TV 2/ AKTUELLT + RAPPORT/ Om avbrottet i melodifestivalen och bombhot mot Livets Ord
10 mars/ KANAL 1/ CARAMBA/ "Mitt i ett äventyr", intervju, "All the reasons to live"
13 april/ TV 2/ LASSE I 90/ "Swing it magistern", "All the reasons to live", "Right now"
30 april/ TV 2/ DANSGALAN I LULEÅ/ "Let me be there" + "All the reasons to live"
20 maj/ TV 2/ GUDSTJÄNST FRÅN LIVETS ORD/ Carola och Runar i publiken
8 september/ SVT/ CARAMBA/ "The girl who had everything", ur bröllopet, intervju, "I´ll live"
4 oktober/ KANAL 1/ LISTAN/ "The girl who had everything"
27 oktober/ KANAL 1/ KULAN/ "I´ll live" + "Medley"
2 november/ TV 2/ KOSMOPOL/ "I´ll live" (musikvideon), intervju, "The innocence is gone"
2 december/ KANAL 1/ SÖNDAGSÖPPET/ "Every...", intervju, "When i close...", "Fernando", intervju, "Nu tändas tusen..."
14 december/ NORDIC/ TOP GEAR/ "I´ll live" + "The innocence is gone"
22 december/TV 4/ CAROLA JULSPECIAL/ Vi får se Carola julklappshandla varvat med låtar från Much More-plattan.
Julen/TV 4/ REKLAM/ Postens paket
31 december/ TV 2/ NYÅRSGALAN/ "Every beat...", "I´ll live", intervju + "All the reasons to live"
Hösten/ MUSIKVIDEON/ "I´ll live"


NORSK TV 1990:

? augusti/ NRK/ LOLLIPOP/ "Don´t be cruel", "Love me tender", "Rockin' Robin" + "If I can dream"


SVENSK TV 1991:

25 januari/ TV 2/ 24 KARAT/ Tävling, "Every beat of my heart"
? mars/NORDIC/ ? / Inför Eurovision Song Contest
31 mars/ KANAL 1/ MELODIFESTIVALEN/ "Fångad av en stormvind" 2 ggr, omröstning, final
31 mars/ KANAL 1/ SÖNDAGSÖPPET/ Veckans efterlyst: Carola
1 april/ TV 4/ NYHETERNA/ Om melodifestival-segern
20 april/ KANAL 1/ CARAMBA/ Intervju, "Fångad av en stormvind"
2 maj/ TV 4/ NYHETERNA/ Inför Eurovision Song Contest i Rom
4 maj/ TV 4/ VIVA CAROLA!/ Annika Jankell intervjuar Carola inför Eurovision Song Contest
4 maj/ KANAL 1/ EUROVISION SONG CONTEST/ Fångad av en stormvind, omröstning, final
5 maj/ TV 4/ NYHETERNA/ Efter segern i Eurovision Song Contest
5 maj/ KANAL 1 + TV 2/ AKTUELLT + RAPPORT/ Efter segern i Eurovision Song Contest + direkt från Arlanda
? juni/ TV 2/ SOMMARLOV/ Svett Hellberg intervjuar i Jönköping
Sommaren/MUSIKVIDEON/ "Captured by a lovestorm"
5 oktober/ KANAL 1/ EN FEST FÖR LIVET/ "The innocence is gone", aktion, "Every time you go away" (med Paul Young)
22 december/ TV 4/ CAROLA LIVE!/ En timmes livekonsert från Väddö Folkets park inspelat 10 juli under sommarturnén
24 december/ KANAL 1/ CAROLA I JULETID/ En musikalisk ljudklapp från Carola med gäster


NORSK TV 1991:

31 augusti/ NRK/ CAFÉ LE SWING/ "Hit-Medley", "Are you ready", intervju, "Fångad av...", "Falling in love", final


DANSK TV 1991:

22 juni/ VILD I VÄRMEN/ "Fångad av en stormvind", intervju
21 september/ SÅ VAR DET TIVOLI/ "All the reasons to live", "Fångad av en stormvind"


FINSK TV 1991:

? juli/ SOMMARNÖJE MITT I STAN/ "The girl who had everything", intervju, "Fångad av en stormvind"


PRIVATFILM 1991:

? maj/ Repetition av "Fångad av en stormvind", intervju efter segern


SVENSK TV 1992:

? januari/KANAL 1/ LISTAN/ "O, helga natt" (endast bilder från julskivan från 1991)
14 mars/ KANAL 1/ EFTERSVEPET, MELODIFESTIVALEN/ Intervju
? april/ TV 2/ SYDNYTT/ Dragningen av låtordningen i Eurovision Song Contest
2 maj/ KANAL 1/ KALAS/ "All the reasons to live" + "Ovan regnbågen"
7 maj/ KANAL 1/ POPITOPP/ Gäst: Carola som premiärvisar nya videon "All the reasons to live"
9 maj/ KANAL 1/ EUROVISION SONG CONTEST/ Carola håller tal + "All the reasons to live"
? september/ TRAILER/ 10-öresinsamlingen
15 oktober/AKTUELLT + NYHETERNA/ Om publiceringen av falska nakenbilder i Hustler
5 december/ KANAL 1/ 7 TILL 9/ Löpsedel: Carola: -Jag tror på tomten!
10 december/ KANAL 1/ DISNEYKLUBBEN/ "I vår vackra vita vintervärld/Jingeling tingeling, intervju
11 december/ KANAL 1/ POPITOPP/ Carola får pris för bästa skådespelerska
18 december/ KANAL 1/ 7 TILL 9/ "Jul, jul stålande jul", rappakalja, "Jag drömmer om en jul hemma"


NORSK TV 1992:

23 november/ ? / "O, helga natt" + "Nu tändas tusen juleljus"


PRIVATFILM 1992:

? maj/ Repetition av "All the reasons to live"


SVENSK TV 1993:

26 februari/ TV 2/ G0´ MORRON SVERIGE/ Intervju om Carolas 10-årsjubileum
27 februari/ KANAL 1/ GRAMMISGALAN/ "You light up my life", eftersvep
##10 april/ KANAL 1/ 10 ÅR MED CAROLA/ Musikalisk kavalkad & glimtar från gamla TV-program. DIREKTSÄNT ##
2 maj/ KANAL 1/ SÖNDAGSÖPPET/ Carola delar ut blommor till The Flying Eagle
2 maj/ KANAL 1/ AKTUELLT/ Carola döper Intum Justitia i Göteborg.
6 november/ KANAL 1/ DET KOMMER MERA/ "Save the children", intervju, "It´s good to know Jesus"
20 november/ TV 4/ ÅKESON BARNSPECIAL/ "Anybody here" + "Save the children"
28 november/ TV 4/ LUCIAGALAN/ "The blood" + "You light up my life"
17 december/ TV 2/ RENA RAMA SANNINGEN/ "You light up my life" + "Gläns över hav och strand"
23 december/ TV 2/ OLDSBERGS JULSTUGA/ "Nu tändas...", intervju, "Don´t be discouraged" DIREKTSÄNT


NORSK TV 1993:

? februari/ NRK/ FIGARO/ Intervju, "You bring... ", intervju, "Let it be me" (med Morten Harket), "Swing low, sweet chariot"
ca 15 november/ NRK/ ? / Intervju, "You light up my life"


DANSK TV 1993:

17 mars/ ? / SUPERCHANSEN/ "I´m ready", "Medley: Mitt i ett äventyr/Fångad av en stormvind/Främling"


PRIVATFILM 1993:

10 april/ Efter direktsändningen av "10 ÅR MED CAROLA" på TV-huset i Stockholm
19 juni/ Premiär på Liseberg för sommarturnén
27 juli/ Sommarshow, Ängelholm


SVENSK TV 1994:

13 februari/ TV 4/ CAROLA GOSPEL CONCERT/ Fartfylld show från Cirkus i Stockholm varvat med intervju-klipp
31 mars/ KANAL 1/ NYA JOURNALEN/ Intervju + glimtar från Cirkus-konserten
8 oktober/ KANAL 1/ DET KOMMER MERA/ "Det kommer dagar", intervju, "Flickan från igår"
30 oktober/ TV 4/ STORA FAMNEN/ "Det kommer dagar", intervju, "Guld i dina ögon"
? november/ Z-TV/ ARTISTSPECIAL: CAROLA/ en halvtimmes artistspecial
? november/TV 4/NYHETSMORGON/Om skivan "Personligt"
? november/TV 2/GO´ MORRON SVERIGE/Om skivan "Personligt"
11 november/ TV 2/ NÖJESREVYN/ Intervju + videon "Guld i dina ögon" premiärvisas!
18 november/ TV 4/ ÅKESON/ "Inte en dag" + "Guld i dina ögon"
9 december/ TV 2/ 24 KARAT/ Tävling + "Guld i dina ögon"
21 december/ TV 2/ BLIXT FRÅN KLAR HIMMEL/ "Så länge jag lever" + "Guld i dina ögon"
31 december/ TV 2/ NYÅR PÅ HIPP/ "Sanna vänner" + intervju


NORSK TV 1994:

20 februari/ NRK/ VINDUE MOT LILLEHAMMER/ "The blood"


FINSK TV 1994:

? december/ FRAMTID FÖR BARN/ "Guld i dina ögon" + "Inte en dag"


HOLLÄNDSK TV 1994:

? oktober/ GOSPELGALA/ "We will stand", "Newborn soul", "Friends", Don´t be discouraged" m fl


PRIVATFILM 1994:

1 juli/ GOSPELROCK I BÅSTAD/ "Waiting" + ljudet från mellansnacket


SVENSK TV 1995:

## 4 februari/ KANAL1/ MYCKE´ NÖJE MED CAROLA/ Med Chicago Community Choir, Carolas fadderbarn m.fl. ##
19 april/ TV 2/ TV SKÅNE/ Intervju inför konserten i Malmö
22 april/ TV 3/ HOCKEY NIGHT/ Carola drar vinnaren för bästa vänsterback, "Så länge jag lever" + "Hey Jude"
25 april/ TV 4/ NYHETSMORGON/ Reportage från Carolas sommarturnéavslutning på Café Opera + intervju i studion
29 maj/ TV 3/ ARLANDA SKY CITY/ Reportage från Brännbollsyran
28 augusti/ TV 4/ NYHETERNA/ Inför Sound of music
? september/ TV 3/ NÖJE DIREKT/ Inför Sound of music
? september/ TV 2/ RAPPORT/ Inför Sound of music
? september/ TV 2/ KVÄLLSÖPPET/ Om kriget i Bosnien med Carola och Tommy Körberg
? september/ TV 2/ NÖJESREVYN/ Inför Sound of music
? september/ FEMMAN/ Inför Sound of music
27 oktober/ TV 4/ STINA & LENNART/ Intervju, "The sound of music"
## 26 november/ KANAL 1/ SÖNDAGSÖPPET/ "Do-re-mi", "Något gott" + "Sök dig till bergen" ##


HOLLÄNDSK TV 1995:

? april/ LATE NIGHT SHOW/ Carolas gospelkonsert med bl a "Hold on", "There is power", " Oh, happy day"


SVENSK TV 1996:

? Februari/TV 4/ FILMGALAN/"Avskedsvisan" + "Sök dig till bergen" DIREKTSÄNT
27 februari/TV 4/ ur NYHETERNA/ Carola vinner guldmasken för bästa skådespelerska i musikal/show
9 mars/ KANAL 1/ DET KOMMER MERA/ intervju, "Du ska få en dag i måra", "Jag tror på mig"
? / KANAL 1/ LÖRDAGSAKUTEN/ Om att ligga på sjukhus
Våren/KANAL 1/BULLEN/ Snack om dagböcker
13 April/KANAL 1/TOMAS TENGBY/ gäst + "Främling"
Midsommar/TV2/SYDNYTT/ Om midsommarkonferensen i pingstkyrkan, Malmö där Runar predikade
Sommaren/SUPERSPORT/ Carola spelar golf
? September/TV 4/SIKTA MOT STJÄRNORNA/Carola är med på telefon
9 september/TV 4/NYHETSMORGON/ Reportage från 30-årsfesten på Café Opera
## 26 oktober/KANAL 1/ SITT VACKERT/ "Swing low, sweet chariot", "Det bästa jag vet" + "Mixade minnen" ##
11 november/KANAL 1/FOTBOLLSGALAN/ "Believe" + "Just the way you are" DIREKTSÄNT
? nov/dec/TV 4/SOFF-I-PROPP/ "Believe"
29 november/ TV 2/ PÅ FLYKT/ "Believe" DIREKTSÄNT
18 december/ TV 2/ MUSIKJÄGARNA/ "Just the way you are" + "Operator" (med Triple n´Touch)
31 december/ TV 4/ NYÅRSKVÄLL MED TIMELL/ "Mixade minnen", "Något gott" (med Sjögren) + "Believe"


NORSK TV 1996:

8 maj/ NRK/ STUDIO GRAND PRIX/ "La de swinge" (med Bobbysocks), intervju, klipp från "Främling" + "Fångad..."


PRIVATFILM 1996:

8 december/ JULFEST FÖR CAROLA CLUB/ på Göta Lejon. Carola sjunger bl a "Just the way you are"


SVENSK TV 1997:

15 januari/TV 4/NYHETSMORGON/ Carola & Christer Sjögren om "The Sound of Music"
16 februari/Kanal 1/ SÖNDAGSÖPPET/ "Just the way you are"
? mars/TV 3/ RENÉE/ Kändisvimmel från Café Opera, Carola med Lena Morin
8 maj/TV 4/ EN KVÄLL MED LUUK/ Intervju av Kristian Luuk
6 juni/TV 2/ OLDSBERGS UPPTÅG/ "Tommy tycker om mig" + So far so good" DIREKTSÄNT
12 juli/TV 4/ ZESAM/ "Guld i dina ögon" + intervju av Lasse Kronér
8 augusti/ TV 4/ NYHETSMORGON/ "Just the way...", Oh, happy day", intervju, spelar Hugo
9 augusti/TV 3/VATTENFESTIVALEN/ Intervju ¤
23 oktober/ TV 3/ ETT HÄRLIGT LIV/ med Carola och gäster bl a Lasse Holm, Runar m fl
24 oktober/ KANAL 1/AKTUELLT/ Repetition inför "Världens barn"-galan, intervju
24 oktober/KANAL 1/ EN KVÄLL FÖR VÄRLDENS BARN/ "Save the...", intervju + "Det kommer.." DIREKTSÄNT
## 21 november/TV 4/ STINA/ Intervju av Stina Dabrowski + "Dreamer" ##
29 november/TV 4/ SVERIGES LUCIA/ "Dreamer"
## 14 december/KANAL 1/ SÖNDAGSÖPPET/ "Dreamer" + intervju av Tina Lejonberg ##
17 december/TV 4/ NYHETSMORGON/ "Dreamer" + intervju av Bengt Magnusson och Petra Nordlund DIREKTSÄNT
19 december/TV 2/ GO´KVÄLL/ "Dreamer" + intervju av Ragnar Dahlberg + "All the reasons to live" + avslutning
## 19 december/TV 4/ HAND I HAND-GALAN/ "Dreamer" (se fotot under som jag tagit!) DIREKTSÄNT ##
20 december/TV 3/ BLÅSNINGEN/ Carola blir blåst av Lennart Swahn
25 december/ KANAL 1/ I VÄNTAN PÅ KRISTINA/ Intervju, klipp från Notknäckarna + Janne Carlsson show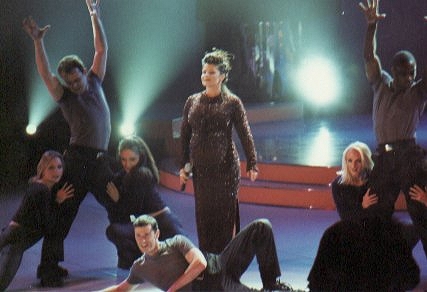 Höggravida Carola med dansare har precis sjungit klart "Dreamer"
på Hand i hand-galan från Älvsjömässan i Sthlm den 19 december 1997.
(Foto: Peter Karlsson)

NORSK TV 1997:
27 januari/ NRK/JUBALS EFT./ "O happy day", "Blott en dag", "Just the way.." + "When I needed you ( med Glenn Gulli)

PRIVATFILM 1997:
20 juli/ SOMMARSHOW FRÅN GÖTEBORG/ "Amazing grace" (med Johnny Cash)
2 augusti/CAROLA CLUB-TRÄFF/ på Skara Stadshotell. Carola sjunger "Så länge jag lever" + "People get ready" unplugged
20 december/ JULFEST FÖR CAROLA CLUB/ på Citykonditoriet. Carola sjunger bl a "You´ve got a friend"

SVENSK TV 1998
28 mars/TV 4/FRÖKEN SVERIGE-GALAN/Carola sitter med i kändisjuryn.
30 maj/SVT 2/ CIRKUSPRINSESSAN/ Carola är jurymedlem.
6 juni/KANAL 1/REKLAM FÖR VICTORIA-FONDEN/ Carola vill att vi sätter in pengar på Victoria-fonden
6 juni/KANAL 1/NATIONALDAGSFIRANDE FRÅN SKANSEN/ "Visan från Utanmyra" + "All the reasons to live"
19 oktober/TV 4/NYHETSMORGON/Intervju sam "Blott en dag" + "Gör det lilla du kan"
23? oktober/TV 2/RAPPORT LUNCH/Interju
31 oktober/TV 4/BINGOLOTTO/"Blott en dag", "Bred dina vida vingar", m.fl.
5 december/TV 4/THORLEIFS JUL MED GÄSTER/ "Jag är en gäst och främling" m.fl.
21 december/TV 4/TONER FÖR MILJONER-GALAN/ "Glory, glory Hallelujah", "Blott en dag" m.fl.

NORSK TV 1998:
22 augusti/ NRK/MOMARKEN/ Carola sjunger "A world of wonders" ¤
29 november/TV 2/SÖNDAGSÅPENT/ "Bred dina vida vingar", "Modersvingen" + "Jag är en gäst..."
PRIVATFILM 1998:
8 augusti/LO-DAGEN PÅ SKANSEN/ Carola sjunger "Främling" och "Joyful, joyful" med gospelkören One Voice

carolavideografi
(Copyright: Peter Karlsson 1998)